Happy Mental Health Month you guys! So, as you may or may not know, in my other life I worked as a therapist, and now even though I'm writing (and being mommy) full time, advocating for mental health is still really important to me.
This month is a great time to celebrate the efforts that we all are making toward living healthy, happy lives. Ok, I know, I know, super vague. But here's the deal, it's just as important for us to take care of our mental health as it is our physical health, and to do that it's helpful to do things like read, or write, or do some Jazzercise, or whatever makes you feel good. And when you're stressed, it can help to talk to someone. A friend, a professional, someone who can help you sort through what's going on.
Some lovely friends who have written about mental health issues, recovery, and kickass therapists are helping me spread the word this year, and because they're so totally awesome, I'm going to give away SIGNED COPIES OF THEIR BOOKS! Here's a bit about each:
SOMETHING LIKE NORMAL by Trish Doller
This is the story of a young Marine's struggle with PTSD after Afghanistan.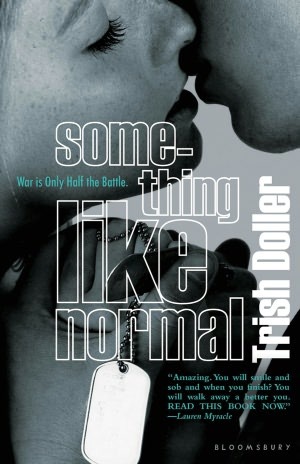 From Goodreads:
When Travis returns home from a stint in Afghanistan, his parents are splitting up, his brother's stolen his girlfriend and his car, and he's haunted by nightmares of his best friend's death. It's not until Travis runs into Harper, a girl he's had a rocky relationship with since middle school, that life actually starts looking up. And as he and Harper see more of each other, he begins to pick his way through the minefield of family problems and post-traumatic stress to the possibility of a life that might resemble normal again. Travis's dry sense of humor, and incredible sense of honor, make him an irresistible and eminently lovable hero.
THE DOWNSIDE OF BEING CHARLIE by Jenny Torres Sanchez
In The Downside of Being Charlie, Charlie struggles with understanding his mother's deteriorating mental health as he himself deals with body image and bulimia.
Charlie is handed a crappy senior year. Despite losing thirty pounds over the summer, he still gets called "Chunks" Grisner. What's worse, he has to share a locker with the biggest Lord of the Rings freak his school has ever seen. He also can't figure out whether Charlotte VanderKleaton, the beautiful strawberry lip-glossed new girl, likes him the way he likes her. Oh, and then there's his mom. She's disappeared—again—and his dad won't talk about it.

Somewhere between the madness, Charlie can at least find comfort in his one and only talent that just might get him out of this life-sucking place. But will he be able to hold his head above water in the meantime?
CRACKED by K.M. Walton
 Victor hates his life. He's relentlessly bullied at school and his parents constantly ridicule him at home.

Bull is angry. He's sick of his grandfather's drunken beatings. And he likes to take out his rage on Victor.

Determined to end it all, Victor takes a bottle of his mother's sleeping pills—only to be disappointed when he wakes up in the psych ward. And his roommate? None other than Bull, whose loaded-gun effort at self-defense has been labeled as a suicide attempt. Things go from bad to worse—until the boys discover they might just have something in common: a reason to live.
A message from Kate: If you're being bullied or if you are a bully, you are in pain. Seek help immediately. Only you can make the decision to heal your heart and mind.
PUSHING THE LIMITS by Katie McGarry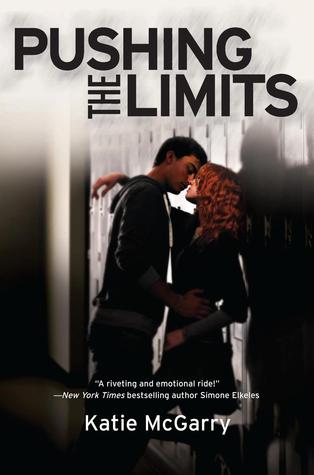 No one knows what happened the night Echo Emerson went from popular girl with jock boyfriend to gossiped-about outsider with "freaky" scars on her arms. Even Echo can't remember the whole truth of that horrible night. All she knows is that she wants everything to go back to normal.

But when Noah Hutchins, the smoking-hot, girl-using loner in the black leather jacket, explodes into her life with his tough attitude and surprising understanding, Echo's world shifts in ways she could never have imagined. They should have nothing in common. And with the secrets they both keep, being together is pretty much impossible.
Echo and Noah begin Pushing the Limits as very broken individuals but through the help of a caring therapist they become whole by the end.
And because I want to share in all the book love, every winner will get a signed copy of BREAKING POINT and a signed copy of ARTICLE 5 (paperback)!
Sorry, this contest is only open to US and Canada. It closes on Sunday, May 19th. Winners have 24 hours to respond with their address by email, otherwise another winner will be chosen. Thanks for entering, and good luck!
Enter here:
If you are looking for national mental health resources for yourself or someone you care about, click here, or check out my previous posts on common mental health diagnoses.
www.suicidepreventionlifeline.org (Suicide Prevention Website – also call 1-800-273-TALK (8255) if you are in emotional crisis or need to talk.  This service is free and confidential.)