Hi there!
I recently returned from the UCF Book Fair in Orlando where I had a really wonderful time presenting with Amy Christine Parker (GATED) and Christina Farley (GILDED)…sort of makes me wish I had a G- title…anyway, lots of fun.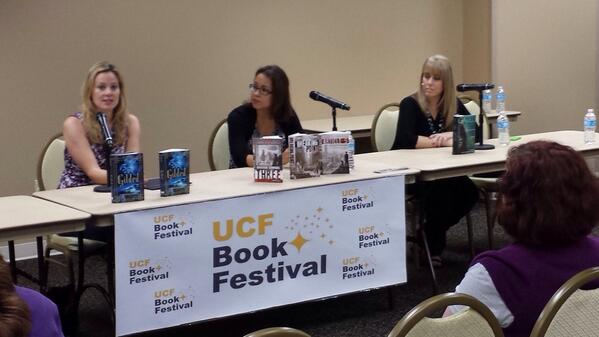 After our panel, I was invited to be the guest speaker in the Teen Scene Writing Workshop. Honestly, one of my favorite authorly experiences. These kids had spent the entire day conceptualizing ideas, supporting each other, and critiquing their work. It was inspiring just to be around them, and I was so grateful for the opportunity to share a little of my writing journey.
x
(Apparently this is where I taught everyone how to do the Hand Jive.)
This week, I'm delighted to be taking part in the Writing Process Blog Hop, in which a whole lot of YA and MG authors discuss their…writing process (duh!). I was invited to join by the lovely Anne Greenwood Browne, author of the LIES BENEATH series and just all around likeable person. Filled with sexy, dangerous mermaids, Anne's books held me captive from the first page. If you haven't checked them out, I highly recommend them. You can read more about her writing process here.
As part of the blog tour, we were asked to answer four questions, and since I'm a good girl who follows the rules (sometimes), here are my answers:
Two things! I'm finishing edits for THE GLASS ARROW, which comes out in January 2015. This is the story of a world where women are endangered. One girl, who is caught in the wild and sold at auction, must return home to find her family. I'm also making some updates to METALTOWN, my next YA (2016) which follows three teenagers in a war-torn world who join together to unionize against their manipulative factory boss.
How does my work differ from others of its genre?
I think my ARTICLE 5 books differ from those in the dystopian genre because they are so closely tied to the present. There aren't any new technologies or fancy resources, in fact there are less resources due to the war that has taken place on US soil. The world in ARTICLE 5 is not so different from our world now just a few notable changes to our political structure. And by notable I mean really, really scary changes.
Why do I write what I do?
I write the stories that pop into my head. They aren't necessarily confined to a genre, they are just the results of what the characters tell me. I didn't set out to write a dystopian story when I wrote ARTICLE 5. But following Ember's journey led me to do just that.
How does your writing process work?
I didn't always outline, I was very much a pantser. Then, as I got farther into the series, I realized the importance of keeping track of all of the loose ends I'd so liberally set up early on. By the third book it became crucial for me to keep track of where everyone was supposed to be when. Now I outlined almost on my work. It's not a very in-depth process for me, sometimes just a few pages. But it definitely helps keep the focus of the characters the progression of the plot clear in my mind
Thanks for stopping by! Next week you can continue on the Writing Process Blog Hop with Amy Christine Parker – who is a surprisingly well adjusted person for writing such freaky books… Kidding, kidding. She's great, and GATED is amazing.